Anna-Marie Johnston
072 846 0130
theframinglady@gmail.com
33 Gifford Crescent, Salt Rock, 4391, KwazuluNatal
© Copyright The Framing Lady 2017 (All Rights Reserved)
Hi Anna-Marie
😊


Just wanted to let you know that Chris was absolutely blown away by the Jade Stone framing. We gave it to him last night with the light on, and in the dark he was really thrilled.

Thanks again.


😊
xxx
Debbie Birch
Director
Live to make memories!
and…
… SHARE them …CELEBRATE them …RELIVE them …SHOWCASE them
I don't just offer a framing service… it's a SPECIALIZED framing service!

3D Framing: is one of the areas I specialize in. This includes all shapes and sizes of sports memorabilia, souvenirs and artefacts. I aspire to preserve and display your artefacts professionally and creatively to show them off to perfection.
Sports Memorabilia: Framing: The Framing Lady does a lot of work framing photographs, memorabilia and objects for club members who want to recognise, celebrate, and remember their experiences. No matter what it relates to, it can be framed beautifully for display in your home, clubhouse, or meeting place, for example: sports medals, shirts and equipment; awards and celebrations; tickets, programmes and autographs.
Artwork and prints: Your painting is beautifully presented in a way that: properly supports and protects it; preserves its condition; complements and enhances the viewing experience; creates its own space, separate from its hanging location; draws the viewer's focus into the subject
Needlework Framing: is another speciality. You have spent hundreds of hours painstakingly creating beautiful works of art. Don't then hide them away in a drawer or leave them in a corner gathering dust.


Hints and Tips to prepare your needlework for framing:

Don't trim the spare fabric - I need the extra for stretching * Work on a frame if possible - it helps maintain the shape of the work

Hand wash in a suitable detergent to remove any marks * Try not to fold the work - roll it round a tube or a magazine

Make sure all loose ends are woven in and trimmed off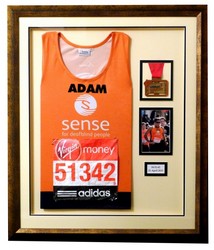 Interior Designers and Galleries
The Framing Lady is up to date with local trends and stocks the latest ranges of mouldings.
From beautiful Kiaat moulding to trending finishes of stone, natural and weather wood, along with complimenting mountboard will enhance your art and desired style.
Bevelled mirrors are very popular and can be framed to your specifications.
I like to visit the space where artwork will be hung to be able to give my best suggestions for framing.
Art pieces can also be sourced from galleries and a large database. This can be wood carvings, coastal canvasses, glass art and everything in between.
Print and Frame
Why not turn your cherished images into the perfect centre piece for your home or make an ideal gift for friends and loved ones.
We use quality materials to print your images onto.

Printed products vary from: FaceBlocks, Acrylic Sheets, Canvas, Fine Art Paper, and Black Core Boards
All I need is your digital images on a memory stick, tell me what you'd like to print and the size, then I can quote you accordingly.
Canvas Stretching
Whether you've been on holiday abroad and found that special memory on canvas, or whether you've found a local artist here on African soil, you can bring it to The Framing Lady to stretch it for you.
A canvas can be stretched over stretcher bars and hanged, or stretched over stretcher bars, framed and hanged to give it a finishing touch and make it look as if it was bought in a posh gallery.
Framing for Parents: Children do and create things at every stage of their lives, magical moments that can be captured and relived. Whether a photograph, a piece of clothing or a physical object The Framing Lady can bring it to life with creative presentation: baby's clothes, the first painting / clay pig / cross stitch, school prizes, examination certificates, celebrations of success.
The list is endless, framed experiences delight you and your children and they also make great presents for grandparents.


Framing for Businesses: Businesses always need to present the right image and framed pictures and objects allow them to do that.
Receptions, boardrooms and offices can all look and feel better and more professional when dressed in a way that supports the organisation's culture and brand. Artwork can be used to recognise significant events and celebrations, promote new products and display awards.

My Latest Challenge: Guardians of the Galaxy